Date Categories
Mahnaz Food is one of the biggest importers dedicated to distributing, processing and packaging high quality food, snacks and beverages which are over eight thousand active SKU's.
Mahnaz Food has been around in Malaysia since 1996 and we have been one of the most trusted brand names in Malaysian food and beverage industry.
Mahnaz Food is a highly reputable and popular brand, mainly for Dates.
We have a high variety of dates, coming in multiple types of packagings. Retail and wholesale ,starting from singular packs all the way to 10kg loose wholesale packs.
Mahnaz Food adalah salah satu pengimport yang terbesar didedikasikan untuk mengedar, memproses dan membungkus pelbagai jenis makanan, makanan ringan dan minuman yang berkualiti tinggi dan mempunyai lebih daripada lapan ribu SKU yang aktif.
Mahnaz Food telah beroperasi di Malaysia sejak tahun 1996 dan kami telah menjadi salah satu jenama yang paling dipercayai dalam industri makanan dan minuman di Malaysia.
Mahnaz Food adalah jenama yang sangat terkenal dan popular, terutamanya untuk Kurma.
Kami mempunyai pelbagai jenis kurma, yang datang daripada pelbagai jenis bungkusan. Pemborongan dan peruncitan, bermula daripada bungkusan pek tunggal sehinggalah bungkusan pek borong longgar 10kg.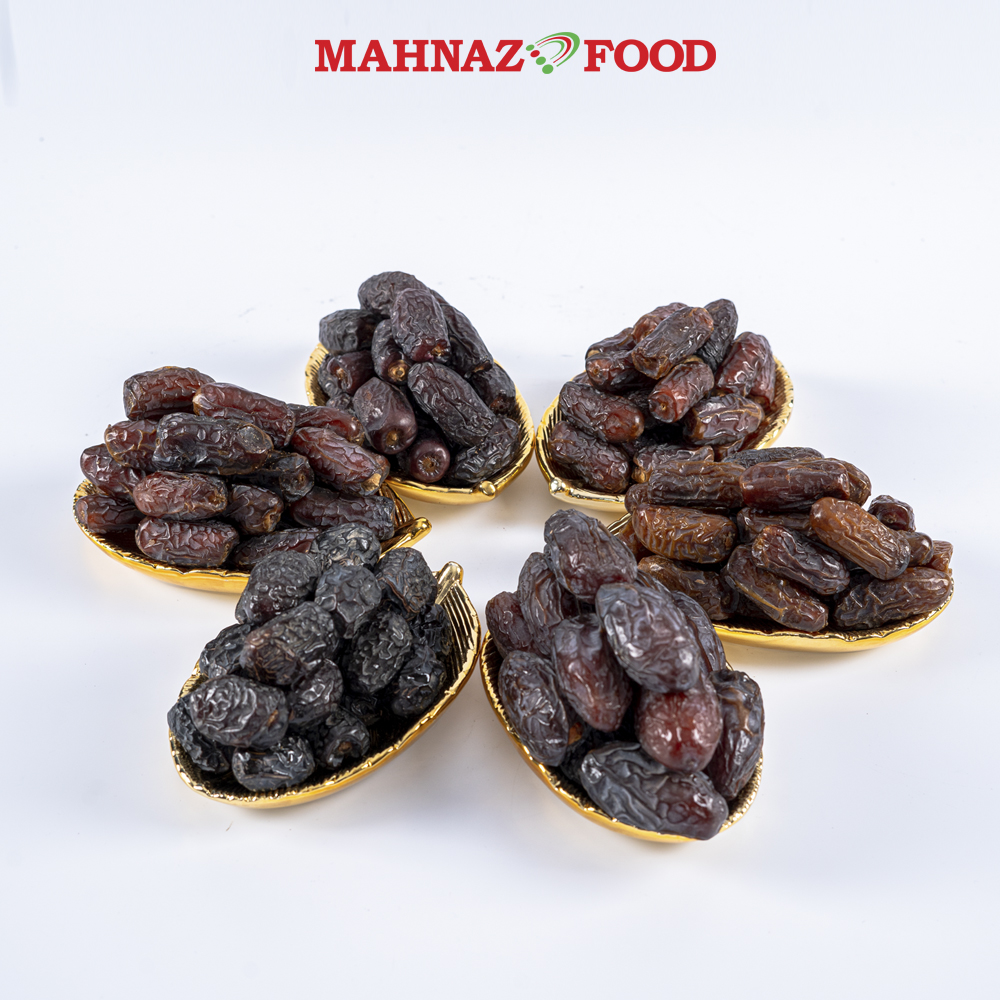 Type of Dates
Main Dates
Other Dates
Contact / Hubungi
Improve Your Health Growth:
Dates are rich in dietary fiber, antioxidants and the essential minerals potassium and magnesium. A diet that regularly includes low-fat, nutrient-dense foods like dates may enhance your health and help decrease your chance of developing many chronic diseases.
Dietary Fiber
Potassium
Magnesium
Antioxidants
Amazing Benefits Of Dates
Improve Heart Health
Help Regulate Cholesterol
Improve Bone Health
Regulates Blood Pressure
Promote Brain Health
Prevent Colon Cancer
Boost Energy
Promote Weight Gain
Prevent Intoxication
Prevent Hemorrhoids
Prevent Inflammation